New event challenging gender bias in clinical academic careers
11.03.22
This year's International Womens Day focused on #BreakTheBias, reminding everyone of the importance of challenging the stereotypes and bias that still exist for women in health and social care. Issues of gender inequality are not unique to medicine, however within clinical academia, women are more likely to drop off academic pathways and are less represented within the top clinical academic positions.
The University of Manchester is hosting a panel discussion to #BreakTheBias for this year's IWD, examining and challenging inequalities in clinical academic careers. The panel will consist of Professor Gabrielle Finn, Banji Adewumi MBE, Professor Margaret Kingston, Dr Rebecca Farrington and George Obolo.
The event 'From Sticky Floors to Glass Ceilings' will take place on Wednesday 16th of March 2pm – 3.30pm and will be both in-person and live streamed. Register for the event.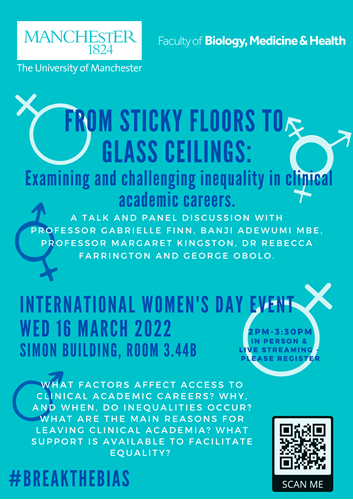 News Archive